MODERN laboratory equipment is, on the whole, so well designed and engineered that we might take its performance for granted.
Instruments have developed to the point where they offer better resolution and better reliability than ever before, provided they are calibrated and serviced appropriately, while liquid handlers, sample stores, and fume cupboards are all so dependable as to make it easy to become complacent about them.
And this, of course, is where the danger lies. We were reminded of that this week, with the shocking news of a sample storage failure in the laboratories of McLean Hospital in Boston, USA, which may have serious repercussions for research into various brain diseases.
The laboratory's 'brain bank' held samples of 150 or so human brains, which were donated for research at Harvard University into autism and other conditions.
Sometime in late May, the freezing system failed. That by itself is a minor problem, because the system (a Thermo sample store) is protected by two independent temperature alarms and the store was routinely monitored twice each day by laboratory staff.
Except that, for reasons which are not clear, both the alarms systems also failed, and the manual check only involved looking at the digital display, which falsely showed a correct inner temperature of about -80C.
It was only when a scientist opened the store to retrieve a sample that the lack of a cold blast gave the first clue to the disaster. As luck would have it, the store was holding an unusually high number of irreplaceable samples, as these had been concentrated in the freezer while a specific  project was underway.
This should have been a fail-proof system, with three levels of protection. Baffling as the reasons behind it are (foul play seems unlikely, but has been suggested), it should act as a reminder to laboratories everywhere that even the best systems can fail.
The one level of protection that could have, and should have, been applied here was to have samples stored in multiple locations. As it is, the Harvard brain bank happened to have put all its eggs in one basket.
I hope you find the LabHomepage website, and this weekly newsletter, useful. Comments and feedback are always welcome: thesecretlabproject@gmail.com. Please help us build our circulation base by forwarding this to any friends that might like it, and suggest they subscribe at http://eepurl.com/itOV2
best wishes
Russ Swan
editor, LabHomepage.com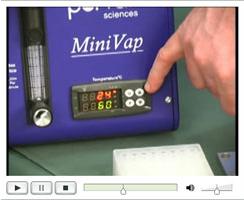 Sponsored message: Microplate Evaporation Made Simple
Porvair Sciences has produced a short online video that introduces and describes the process of 96-well and 384-well microplate evaporation using its popular Minivap and UltraVap Systems.
To watch the video please visit http://www.porvair-sciences.com/video_item_minivap.php
This week's top stories: 25 May 2012
1. Turn your optical microscope into a Raman spectroscope
MOST major brands of optical microscope can now have Raman spectroscopy capability added to them through the Apollo Raman microspectrometer from Craic…
http://labhomepage.com/2041/microscope/turn-your-optical-microscope-into-a-raman-spectroscope/
2. This pH accessory turns an iPhone into an ipHone
SMARTPHONES and tablets are finding increasing uses in the laboratory,  replacing the traditional lab notebook in data collection, providing a handy portable display for…
http://labhomepage.com/2053/ph/this-ph-accessory-turns-an-iphone-into-an-iphone/
3. 96-channel pipette demonstration now online
THE FULL benefits of the Viaflo 96 handheld electronic pipette are demonstrated in a new four-minute video, now available on the LabHomepage YouTube…
http://labhomepage.com/2063/pipette/96-channel-pipette-demonstration-now-online/
4. Mobile GC/MS accepts samples as liquid, solid, or vapour
SAID to be the only mobile gas chromatograph mass spectrometer (GC/MS) that can analyse samples introduced in solid, liquid, or vapour phase, the Griffin 460 also provides…
http://labhomepage.com/2036/mass-spectrometry/mobile-gcms-accepts-samples-as-liquid-solid-or-vapour/
5. Brochure covers serological pipettes and controllers
PORVAIR Sciences has published a new brochure detailing its range of serological pipettes and pipette controllers. It describes these products as high-quality disposable pipettes…
http://labhomepage.com/2067/publications/brochure-covers-serological-pipettes-and-controllers/
6. Looking for this year's top lab automation developments
EACH year, Jala, the journal of laboratory automation, seeks the top 10 technological breakthroughs in the field in order to recognise their contribution. The Jala Ten embraces…
http://labhomepage.com/2022/competition/looking-for-this-years-top-lab-automation-developments/
7. Putting the heat into crystallisation method development
A CUSTOM Asynt dry heating block is currently in use at the Wilson structural chemistry research group at the University of Bath, UK, is a project to simplify and accelerate crystallisation…
http://labhomepage.com/2047/crystallisation/putting-the-heat-into-crystallisation-method-development/
8. New Sciflexarrayer has higher throughput
THE NEWEST version of Scienion's Sciflexarrayer liquid handling robot delivers higher throughput and increased versatility, says the company, boosting its usefulness in multiplexed diagnostics…
http://labhomepage.com/2016/liquid-handling/new-sciflexarrayer-has-higher-throughput/
9. Stable phosphoramidites for oligonucleotide synthesis
TWO NEW new modified phosphoramidites have been launched to complement Link Technologies's oligonucleotide synthesis support portfolio. Triplex, antisense, and gene targeting…
http://labhomepage.com/2059/research/stable-phosphoramidites-for-oligonucleotide-synthesis/
10. Syringe pump is first to promise constant pressure
HARVARD Apparatus says its new PHD Ultra CP syringe pump is the first of its kind to infuse fluids under constant pressure by automatically adjusting the flow rate. This constant-pressure…
http://labhomepage.com/2029/pump/syringe-pump-is-first-to-promise-constant-pressure/